Full 3d Mold Design & Detailing for Complex Injection Molds.
Native Pro-Engineer® files available for you & your customer.
3d STEP, Parasolid or IGES files for Import into other High-End CAD systems.
Quick turnaround times: Preliminary design usually within 24 hours.
2d layouts in DWG, DXF and PDF format.
"D" size paper prints also available.
Tools designed to your specifications, customer requirements and concepts.
Wide range of experience with slides, lifters and contoured/complex parting line surfaces.
Hot Runner molds, 3-Plate & 4-plate tooling, MUD units and Prototype tooling.
High speed internet and FTP site for transfer of large files.
Competitve prices.
Also offering webdesign with the following features
streaming video like YouTube (you provide the video file or I can help get you started)
photo galleries
user forums and discussion bulletin boards
search engine optimization (SEO) and submission
a variety of themes and customization
examples of sites OneDurango.com and SummitDesign3d.com
Summary of Qualifications: Proven CAD/CAM Engineer with over 27 years experience in respective phases of tool design. Throughout the design process my responsibilities include part design recommendations, material specifications, and complete tool design, detailing and layout. Advanced shop background, experience in mold building and CNC programming, operation and set-up. All this combined, makes my designs buildable.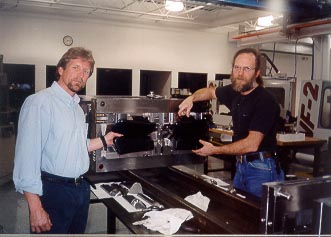 That's me on the left in front of Air Bag Tool: 1+1 family mold, 5 lifters/cavity.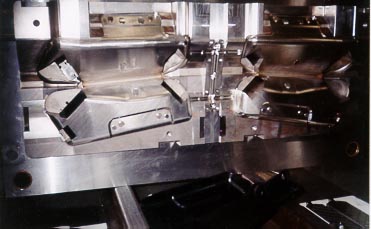 Close up view of the Air Bag Tool